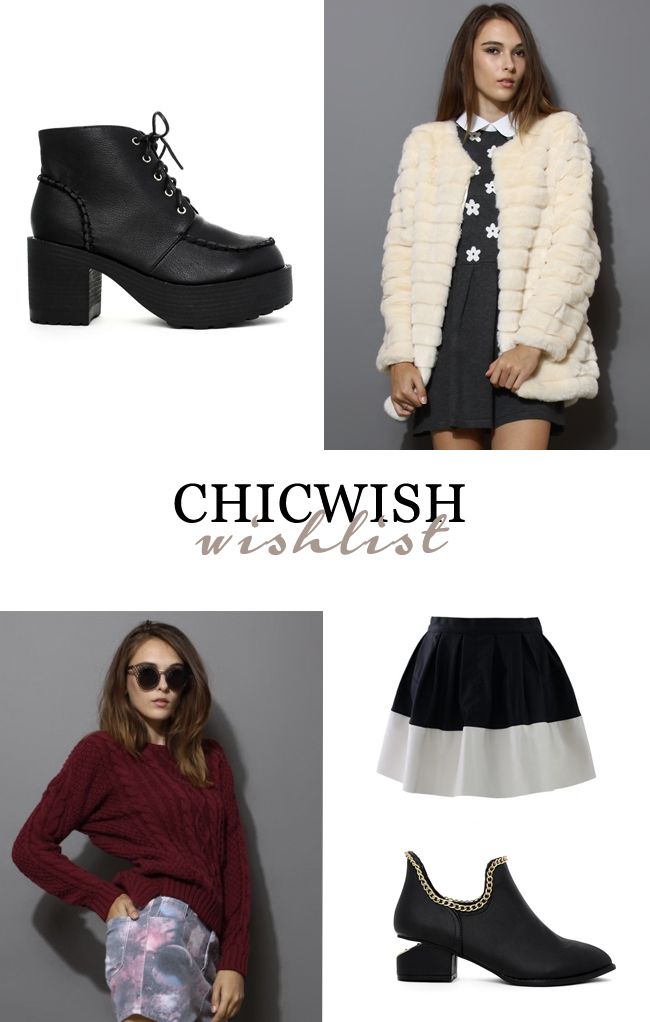 PORTUGUESE:
Provavelmente já devem ter ouvido falar da
Chicwish
, uma loja online que possui uma enorme variedade de produtos. Depois de ter estabelecido uma parceria com a marca, tive de escolher alguns produtos para verificar a sua disponibilidade e acreditem que não foi uma tarefa fácil. O melhor desta loja, na minha opinião, é o facto de apresentar artigos para todos os gostos. Existem peças vintage, de
estilo militar
e até possuem uma colecção chama
Moto Bike
. Isto tudo para dizer que dificilmente vão sair do site da
Chicwish
sem encontrar algo que vos agrade. Ah, e além de diversas promoções que poderão encontrar ao longo de todo o ano, a
Chicwish
ainda oferece os portes de envio.
De todos os artigos presentes na wishlist acima, a
Chicwish
irá enviar-me dois em breve. Conseguem adivinhar quais?
ENGLISH:
Probably you already have heard about Chicwish, an online store with a huge variety of products. After establishing a partnership with the brand, I had to choose some products to check if they were available and believe me, it was not easy at all. The best thing about this store, in my opinion, is that they have clothes, shoes and accessories for all tastes. There are vintage pieces, military style products and they even have a collection called Moto Bike. All this to say that you can hardly get out of Chicwish site without find something that pleases you. Oh, and besides several promotions throughout the year, Chicwish offers the shipping costs.
Of all the items in my wishlist, Chicwish will send me two very soon. Can you guess which?